Stacey & Stephen L. | November 2021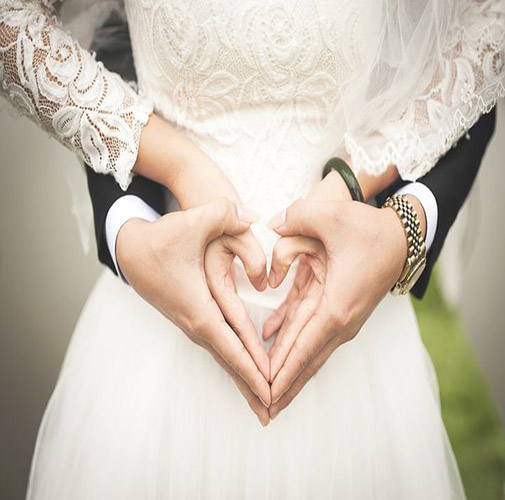 Best wedding band ever!  ETA is incredible! As soon as our guests arrived at our wedding reception, ETA had them up and dancing - even before the wedding party (including the bride and groom) were officially introduced! We had guests of all ages from 1 year olds to 90-somethings and everyone was dancing all evening long. Luckily we were able to talk to all of our guests throughout the night and even to this day (a month later) they all still can't stop talking about how amazing the band was! We highly recommend them if you want an unforgettable wedding experience! 
Allison & Mike R. | October 2021
ETA was definitely the highlight of our wedding!! A week later our guests are still raving about the band!! They were all so nice and extremely professional! Their songs were wonderful and they definitely picked up on the vibe of the guests! Everyone was on the dance floor all night up until the lights came on!!!! Would not recommend anyone else for your events other than ETA! Thanks for making our wedding the best party of the year!!!
Eve & Seth Z. | October 2021
BOOK THIS BAND. Every single attendee at our wedding was RAVING about how incredible the band was. My family used ETA for both of my sister' weddings and when it came to my turn, there was no question about it: it had to be ETA. I barely sat the entire evening because the band was just that incredible. And truly, everyone at the wedding said something about how great the music was at our wedding! Absolutely phenomenal!
Paige & Nikki D. | September 2021
Thank you SO much for your unbelievable performance at our wedding in September! From the ceremony to our first dance to our dances with our parents, we greatly appreciate all your effort to make the day so special and memorable. Your talent, professionalism and performance surpassed all expections. We truly enjoyed working with you! Thank you again for the best night and keeping everyone dancing!
Rebekah & Jay R. | August 2021
ETA is phenomenal! They made our wedding! Guests were so impressed that they asked for ETA's contact information to use at their own events.
Alexandra & Henry R. | August 2021
I just wanted to reach out and thank you and the band so much for such an amazing night. We got so many compliments on the band everyone was in awe of their talent and the entire wedding was dancing all night long! We had every generation out on the dance floor - the band exceeded even my wildest expectations! We are so grateful, they made the night so magical and so fun, and a great time was had by all.
Alyssa & Todd K. | July 2021
We first heard ETA at a wine bar on a Thursday night, and they had the ENTIRE place on its feet dancing! In that moment, we knew we had to book them! Even though we had to push our wedding from 2020 to 2021, thankfully they were so accommodating and available for our new date. They knew the perfect songs to play at exactly the right times, and had the most seamless transitions. Our friends and family are OBSESSED with them, and are still talking about how amazing they were six weeks later. They definitely were a huge hit and made our night fun, enjoyable and unforgettable.
Christina & Jimmy F. | June 2021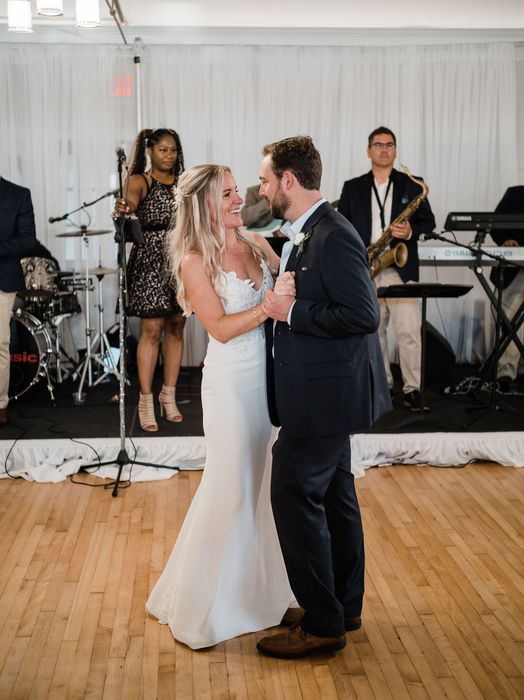 Hands down, eta music made our wedding better than we would have hoped for. From the quick and friendly planning pre-wedding with Susan to the day-of magic led by Rocky, we couldn't have asked for a better experience. I'm a wedding planner turned bride and they were so on top of the details to make sure everything was just right for us. Our guests were dancing every second they could, eta read the crowd so well and everyone is still raving about them. Thank you so much for the epic memories!!.
Lindsey & Scott B. | June 2021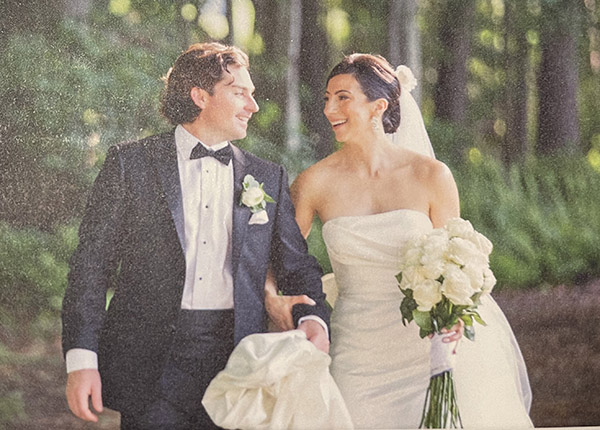 Thank you so much for making our wedding nigh truly unforgettable. Months later, and we still get compliments on how amazing you were! We are so grateful to have had you spend the night with us and celebrate our favorite day. Our wedding would not have been the same without you all! Thank you again from the bottom of our hearts.